From Butch Sowers:

Thanks to all my goat family that sent such loving thoughts this week. Mom loved our goat bunch and helped when she could.

She made a goat quilt for us to raise funds back when we were rebuilding the great Iowa Dairy Goat Show.

She was a mom to us all.

Thanks Butch
Dorothy Ann Sowers, 83, of Colo, passed away Friday, January 27, 2017, at Bethany Manor in Story City.
Dorothy was born August 5, 1933, the daughter of Lloyd and Irene (Wise) Dadisman. She graduated from Fer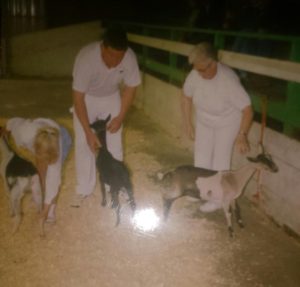 nald High School in 1951 and was united in marriage to David Sowers on January 13, 1952 in Fernald. Dorothy was a member of the Colo United Methodist Church in Colo and sold Avon for many years. She enjoyed playing cards, sewing, quilting, crocheting and volunteering at the Story County Hospital.
Dorothy is survived by her children: Jon (Jennifer) Sowers of Mountain Home, Idaho, Butch (Brenda) Sowers of Colo and Marianne Johnson of Nevada; her brothers: Lee (Dorothy) Dadisman and Charles (Judy) Dadisman; six grandchildren and eleven great-grandchildren. She was preceded in death by her parents; her husband; an infant daughter; her son-in-law, Ken Johnson and a grandson, Dwight Johnson.
Funeral services will be 11 a.m. Saturday, February 4, at Rasmusson-Bacon Funeral Home in Nevada. Family will greet friends one hour prior to the service. Burial will be at Evergreen Memorial Gardens near Nevada.
Memorial contributions may be made to Story County Hospital Auxiliary.
Visit her celebration wall here.