Langston University TRAINING CLINIC: ARTIFICIAL INSEMINATION FOR GOATS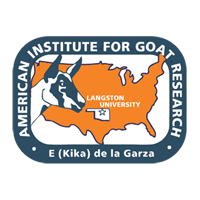 Workshop Presenters
Dr. Terry Gipson of Langston University, Dr. Lionel Dawson of Oklahoma State University, and Mr. Les Hutchens of Reproduction Enterprises, Inc. will be the presenters for this hands-on workshop.
Workshop Location
Conference Room in the Agriculture Education, Research, and Extension Complex of Langston University which is located 11 miles east of Guthrie, OK on Hwy. 33.
Registration for the workshop is limited to 20 participants and the registration fee is $50 per person. Included in the cost of registration are handouts and snacks for breakfast and breaks. Lunch is not included.
Workshop Program
8:00 – 8:30 Registration
8:30 – 9:30 Basic anatomy and
physiology of goats
9:30 – 11:00 Estrus detection and
synchronization in goats
11:00 – 12:00 Practice with harvested
reproductive tracts
12:00 – 1:30 Lunch (on your own)
1:30 – 2:30 Semen handling and AI kits
2:30 – 3:00 Break
3:00 – 5:00 Practice AI with live animals